Dental Implants and Artificial Tooth Implant Procedures
in Shoreline, Greenwood, Fremont, Northgate, Seattle, Ballard, WA, & the Surrounding Areas
If you are missing teeth, or are interested in dental implants, Seattle's Family Dentistry is the trusted local practice. The dentist, Dr. Ajwant Goraya, has a great deal of expertise with these procedures, so you can go forward with total confidence when you get your dental implants from us. We treat patients from Seattle, Greenwood, Ballard, Fremont, Shoreline, Northgate, WA and all other Seattle area neighborhoods.
When decay, gum disease, bone loss or other reasons result in the extraction or loss of a tooth or multiple teeth, the replacement of choice is with dental implants. A dental implant is a titanium screw that is surgically placed into the jawbone. It is used to support a dental prosthesis of some type, most commonly a replacement for a missing tooth. The replacement tooth looks very much like a crown, only instead of covering a tooth, it is fitted in to the implant and surrounding gum.
Another application for dental implants would be for the support of a dental bridge that could be put into place permanently. If cost or bone availability are a factor and you have multiple missing teeth, this could be a solution.
Dental implants can also be used to anchor removable full sets of dentures, and this can be life-changing for denture wearers. Though implants are usually utilized to support tooth replacement solutions, there is another application. Dr. Goraya is extremely knowledgeable and experienced in determining the right solution for missing teeth. She will consult and advise you about a treatment plan and explain the available options for your particular situation.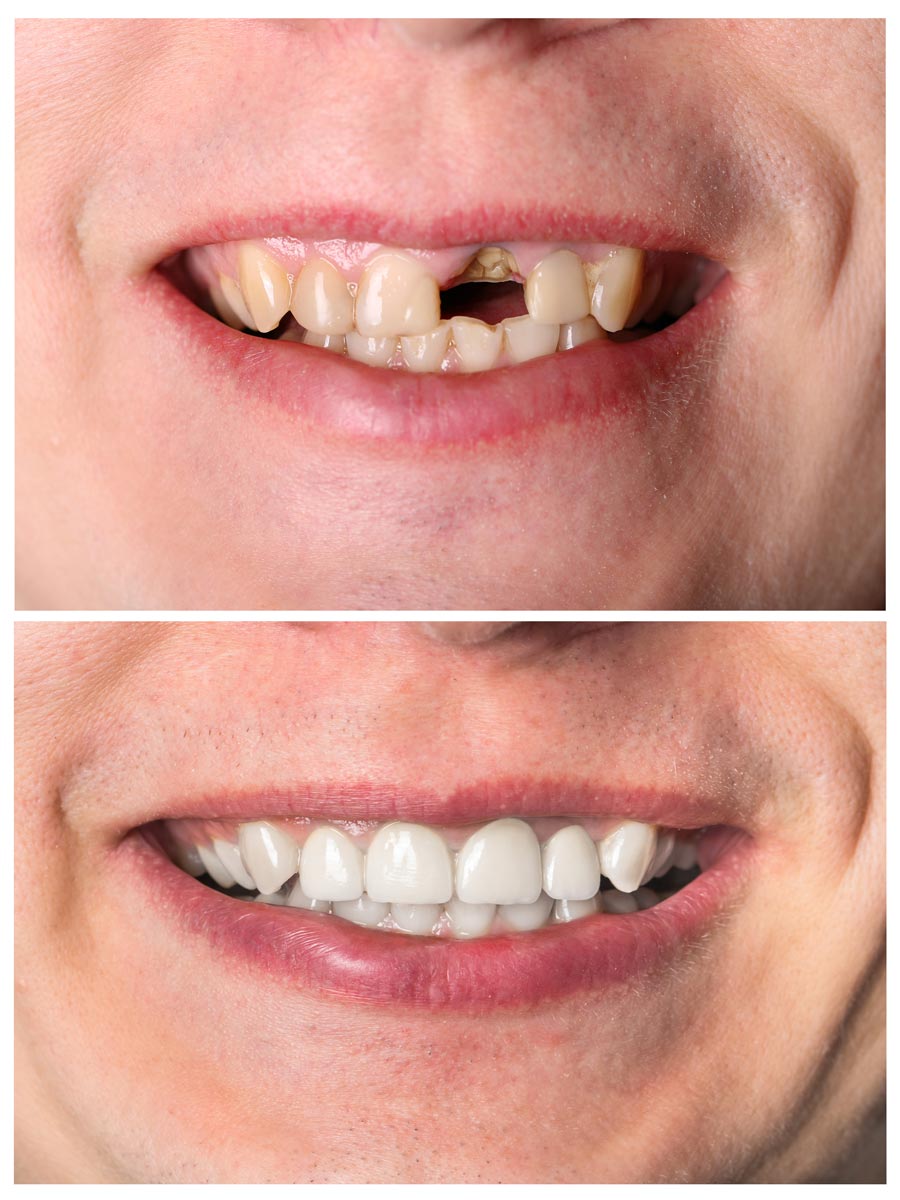 We Are Here to Help!
Many people feel a sense of anxiety when they visit a dentist, and this is understandable. It can be intimidating to go to a dentist for a dental implant procedure. All of our team members are kind, empathetic, and communicative. You can rest assured that we will do everything possible to put you at ease from the first moment that you walk through our doors.
If you have concerns about the high cost of dental implants, you can put them aside. The technology has advanced over the years, and they are now more affordable. Plus, we take most forms of insurance, and in some cases, dental implants may be covered. Our practice can connect you with financing through Care Credit, and they offer a number of different repayment options.
We know that people live busy lives, and it can be hard to find an open window to visit a dentist. As a response, we are open five days a week, and we are available one Sunday each month. If you would like to learn more about dental implants, we can be reached by phone at 206-466-2424, and you can also send us a message through the Contact Page on this website.